1
« on: Yesterday at 11:34:38 pm »
Maps Monday.
Latest update--I've now (mostly) completed all maps for the game! This includes the level structures themselves and all NPCs. I do not yet have all of the objects placed, though... mostly because I'm still coding a few. These include books for skills, power-up items, and "NPCs" the player can talk to, like the prisoner (technically, these are coded as objects).
There are 15 maps total: three levels for each of the four towers, the central hub area, the dungeon (last area with the boss), and a secret map. I dropped the "bridge map" I had outlined in a previous update. Traversing the central hub isn't as much of a hassle as I originally thought it'd be, and there's a useful save point in there.
The next aspect of the game needing attention is balance. There is a steep difficulty jump between the A tower levels and the B tower levels. Most of the difficulty stems from the lack of skills.
I have 20 skills outlined, and about 2/3 of them coded. I wrote a routine that goes through all of the maps and counts how many experience points are available in them. There's a little over 209,000 exp points total. I worked out the skill costs so that the player can afford at least one new skill after completing a map. The skills available in the hub area are mostly 'qualify of life' skills (like the exploration arrows), but the rest give useful buffs to make combating the higher level enemies much easier.
Two of the skills--"Scout", and "Sneak", may end up having a dramatic effect on game play. Scout will let the player look into neighboring rooms, and Sneak eliminates any sound Marika makes when walking. Since the NPC guards are alerted by sound, the two skills will let the player sneak up on enemies.
The biggest challenge in combat is fighting groups of enemies. Since enemies get stunned easily, a single enemy, even one with a lot of HP, can be easily defeated by frequent blows. Picking off one or two enemies in a group from a distance turns out to be a useful mechanic.
I haven't gotten as far into AI coding as to have the NPCs react to light/dark. Letting the player sneak around in the dark to avoid detection by NPCs sounds like a neat idea, but I might have to explore it more in a sequel. It's just too hard to create rooms with good shadows for sneaking with the resolution I have to work with.
For Towers 2, I'd like to look into full color and taking advantage of shaders to offload some of the lighting work from the main processor. I'm thinking about doing the same for this game, and providing a setting to allow the player to choose which graphics set to play with.
And now--screenshots!
A well lit room...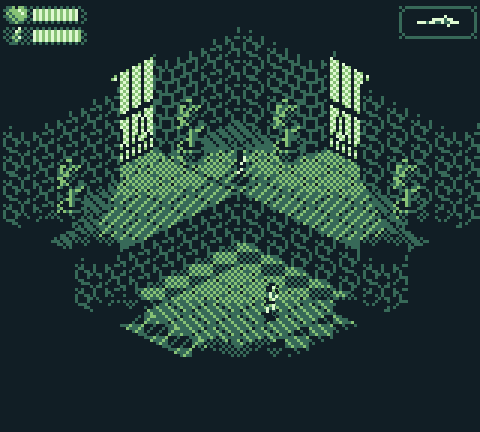 Shadows working on the infamous stairs...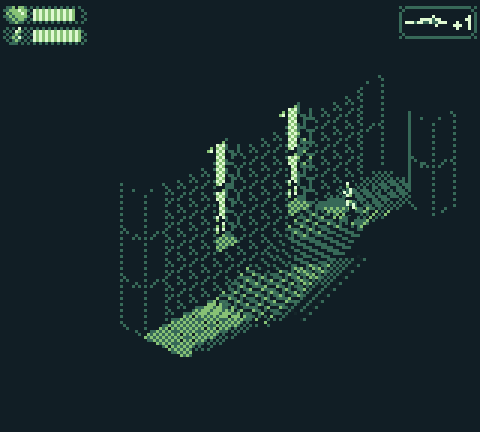 I snapped this screenshot too late. A horde of enemies appeared from behind those columns. Marika almost died even with 1000 HP cheat (50x more HP than at start)... but has no skills and no armor items equipped. I foresee a lot of playtesting to fine tune the balance.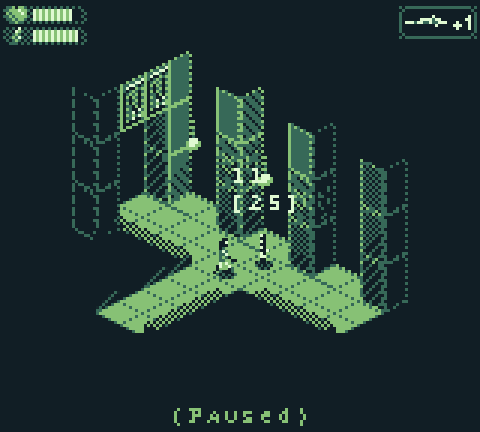 Exploring dark places...