1
« on: April 07, 2012, 02:02:42 pm »
LitSwitch presents...
Lone Star
Genre: Sidescrolling Action-RPG Platformer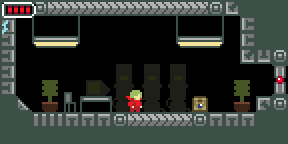 Premise:
"You have woken up on the intergalactic cargo ship Celestia, only to find that the ship has been seized by aliens. Lizardmen stalk the hallways with their hissing tongues, malfunction robots shoot at anything that moves, and even the wires of the ship have become sentient and electrocute anyone nearby... You notice a chest in front of you, and you open it. You find a gun, and though not entirely confident, you know that you have no choice. Taking a deep breath, you open the door and enter..."
- - -
Lone Star is the second major game by LitSwitch, and includes many features
including
:
-Randomly selected levels.
-
Three different starting classes
to choose from and evolve with.
-Fearsome bosses and their
alien underlings!
-Weapons of all kinds, including enemy weapons!
-Optional stealth-based combat.
-Charming
pixellated visuals!
-Immersive story and world where nothing is certain except for what you choose to believe!
-Over 100 levels!
-Woah! Awesome!
- - -
From the two of us at LitSwitch, we hope you will look forward to this game! We've been working on it for a while now and plan to come out with a demo very soon. Stay tuned as we update with more and more content. :]
Questions and comments would be most appreciated!