1
« on: Today at 07:00:05 pm »
Return to Routine.
A lot of us in the Carolinas are looking forward to getting a normal routine back. Fortunately, my town fared okay all things considered. Hurricane Matthew tore down most of the weaker trees, so this time around clean-up was quicker and power restored faster.
RPG Issues.
I spent some time thinking about how to configure NPC enemies and maps. Up until now my main focus was on the engine, so I threw out some stats that worked and went with it. Now that I'm shifting to map and NPC design, I need to think carefully about how to balance the game.
I passed some time watching
The Game Making Journey
. Around video 8 or 9 he mentions using a spreadsheet to play out different scenarios in an RPG. That seemed like a good idea to me, so I threw this together in an afternoon: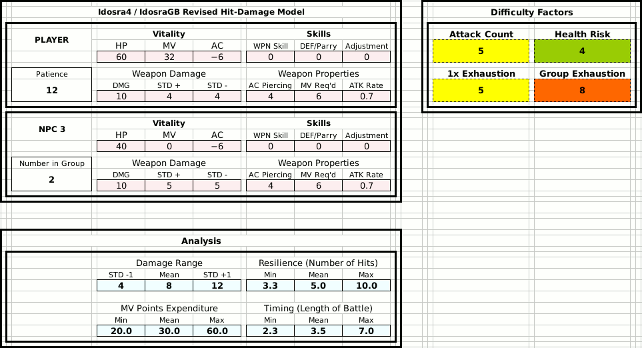 My spreadsheet lets me plug in some statistics relevant to player and NPC attack/defense and get a rough idea of the likelihood of negative outcomes. Obviously I can't model every variable--but this is a vast improvement over nothing.
The spreadsheet computes four difficulty ratings on a 0-10 scale. "Attack Count" is difficulty due to the number of rounds in a battle. "Health Risk" is difficulty roughly based on the probability of the player dying. "1x Exhaustion" is based on the chances the player will run out of movement points in battle, and "Group Exhaustion" is similar, but takes into account multiple NPCs in a room.
It's worth noting that "Attack Count" is not redundant, even though exhaustion is also based on the number of rounds of battle. The longer a battle lasts, the greater the odds that the player will make a mistake. The "patience" stat is a rough idea of how long the player can go before making an "oops".
This will help a lot when I get back to map design. I now will have a better idea of where to place enemies and what effect they'll have when the player is at a certain stage in the game.
Design Goals.
One of my goals is to make combat "flatter". In a traditional RPG, the character level structure divides the game into distinct stages. For example, a level 50 character will have no use for a level 1 area, nor will a level 3 character stand a chance against a level 90 character. This would force me to create a linear game world.
"Towers of Vallas" shares a trait of the
Megaman
games--there are four "bosses" that can be defeated in any order. The player starts in a central area and finds their way to one of four towers. Each tower contains a couple of maps, capped with an end boss. Each boss also has a special weapon, skill, etc. that the player can obtain, which will make the next easier.
This is a tricky design to balance because I don't know what order the player will choose to complete the towers in. Like in
Megaman
, each boss has a weakness to the bonus awarded by defeating another boss. So in that sense there is an intended order. That's left for the player to discover.