1
« on: Today at 10:14:57 pm »
Latest happenings: I'm nearing the point where I can migrate over from Tiled to my own editor. It's coming along pretty well, even thought it feels like there's still a lot to do. Still, I think having an editor that fully integrates with the way Vallas handles maps is worth the effort. Plus, all the UI code can now be used across multiple projects.
Basic map construction goes like this:
Create Map -> Create sectors -> Create tiles -> Compile
||
\/
Build walls, wall faces, and subsectors (handled automatically)
Defining sectors using Tiled was handled in a very clunky way, using tiles. They are the colorful tiles seen in some of the screenshots from Tiled.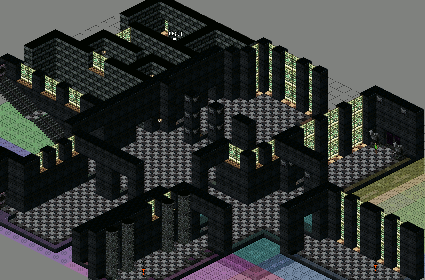 This approach made it hard to do anything fancy, like 3D sectors ("room over room"), define properties of the sectors themselves (things like the name of the sector, lighting properties, monster spawn rates, etc.). All I could do with Tiled was define what coordinates belong to what sector.
New editor lets me "paint" sectors in 3D and also define properties. So far I have name and display name set up, but I'll add some menu options for other features.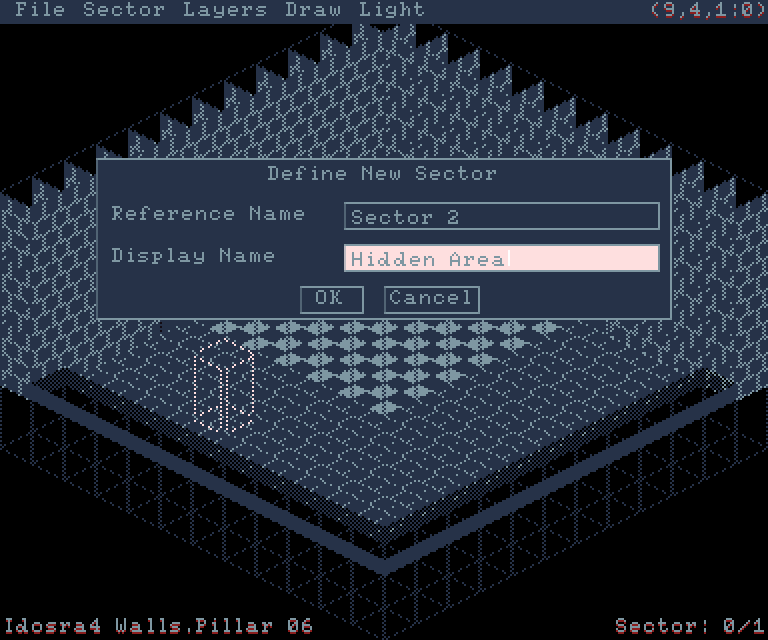 I also started adding shortcuts. I'd like the editor to be entirely keyboard controlled. The cursor is moved with arrow keys + pgup/pgdn, and 'enter' to draw. You can select multiple tiles by holding down shift, so it's possible to paint entire walls at once.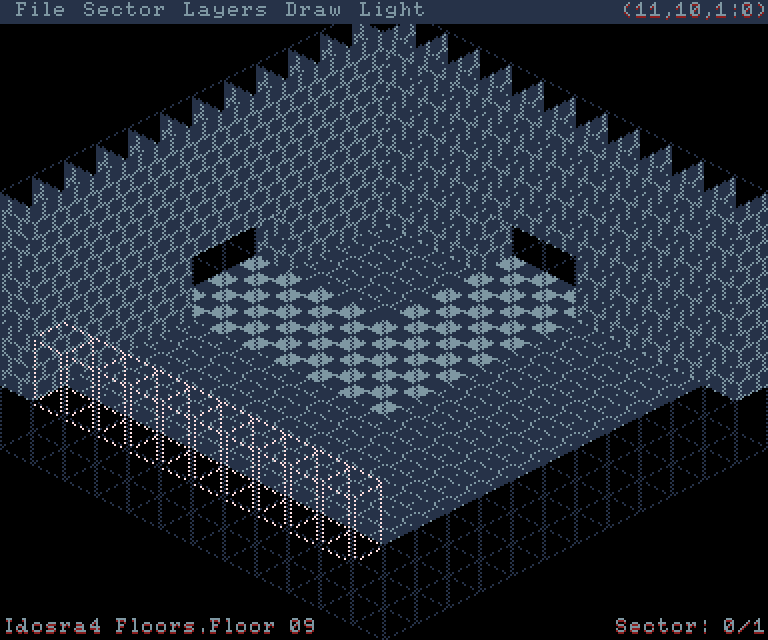 It's a bit late, but I also made a 'Hello, World!' room. Here the draw order appears to be working, but I'm still finding little bugs with it. Draw order is handled differently than in the real game. The in-game renderer uses walls, where as the editor uses tiles. This means I can't see lighting effects in real time. I have to "compile" the map in order to see those.