1
« on: March 17, 2012, 11:16:17 pm »
I'm making some pixel art graphics for a lolita 'dress up' game right now, and I'm struggling a bit with the base, which I need perfect before I can do too much with spriting clothes. I'd like some feedback from fresh eyes on if there's anything wrong anatomically, proportionately, or otherwise so far on this.
EDIT:
I've updated this image after incorporating some changes suggested by a few people I know.
I've been feeling especially paranoid about the arms/hands, the size and placement of the head, and the toes. The second version is just blocking in of where I plan to shade and highlight, so if anything looks wrong I'd love to know before going in for the cleanup and details.
And just to share a bit on what I plan to do next with this base, here's an example of some of the wardrobe items I've started so far for the 'dressup' part. This example is on the first base I posted, so I'll have to edit the clothes to fit the new base now. The base-doll obviously won't be Barbie-naked in the game; she'll be wearing at least the tank top and bloomers from the beginning.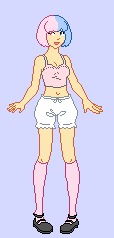 <3 ali