1
« on: Yesterday at 01:57:27 am »
I have not posted in a while. I have news. I have not worked on my games recently (excluding Easter Fun), which I will start getting back into after a couple of weeks.
I want to get Poppytail 5 done this year. It has been nearly a year since I started and I have had to do other things in my life instead of making progress on the game. I plan to release the full game on GameJolt by the 24th of December, 2018, or a year after I officially released Poppytail 3.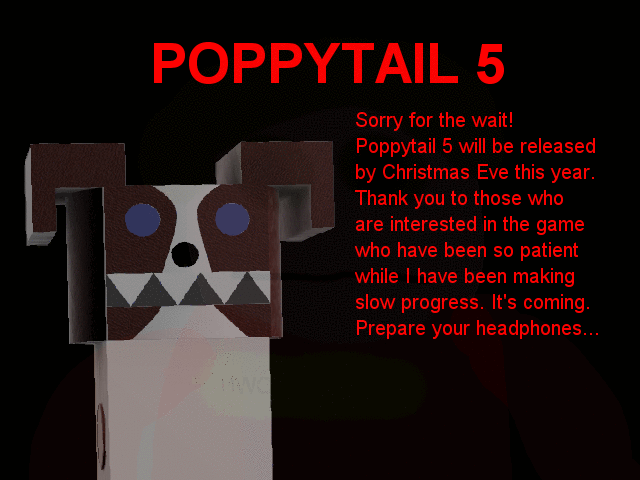 I'm working on Chapter 4 at the moment. I'm thinking of working on some minigames soon. The minigames in PT5 are not exclusive to the new characters. Pink Poppy, Auto, Wicked Easter Bunny and Cheesestick will be getting their own minigames too (to give a few examples).
Still haven't modelled Ennuyeux or Summer-Rose. Still need to do those. I have a plan here which I want to try and follow to get my games done by:
Poppytail 5 (December 24th, 2018)
One Million (January 30th, 2019)
Pixeltail (October 12th, 2019)
A Game About Trimming Hedges: Final Version (October 20th, 2019)
The Poppytales (June 19th, 2020)
The dates listed above are not final. I'm hoping to get my games done either before or actually on those dates. Let's see how I go.
About the AGATH update. It's going to be canon to the Poppytail series. So will One Million. I won't state how they link together. When the Final Version of AGATH and the first version of OM release, you can find the links on your own if you're thinking of getting the games. I want to release the AGATH update after Pixeltail. It may be easier to find the links if one has completed Pixeltail first or at least knows the game's canon storyline.